EXPAT-EXPO BASEL
Meet 84 exhibitors from all over Switzerland
at the Congress Center in Basel!
FREE PRIZE DRAWINGS (more to come)
Enter to win our free EXPAT-EXPO door prize drawing for a gift card from GLOBUS.
1st Prize: 300 CHF gift certificate!
2nd Prize: 200 CHF gift certificate!
3rd Prize: 100 CHF gift certificate!
Neuchâtel Junior College will hold a drawing for a "Canadian warm wishes" pack including a pair of Toronto Raptors socks- 2019 NBA Champions! Stand 89
Tribal Traces would like to give a very special gift of a gift voucher, so you don't get want you don't want or need. Stop by and gift yourself something you will appreciate fully. Stand 21
Please visit the Basel Children's Trust booth and enter to win one free of year of family membership to our organization! Join our playgroups, special events, workshops, monthly activities and more! Our annual membership fee is normally 95CHF. Stand 90
The Sense Pilates will be running a lucky draw every hour there for:
- 1 voucher for a Free Private Pilates Discovery classes. Value 120chf.
- 1 myofascial massage ball.
Stand 44
ELA Basel will be giving away a variety of children's toys in their prize drawings. Stands 56 & 57
Papayaya Fitness will be holding a lucky draw for 3 fitness classes memberships valid one month. Value 190 CH. Stand 30
Katis Nature Manufacture will hold a drawing for some of their handmade, organic cosmetics. Stand 98
FOOD & DRINK
The British Cheese Centre will be there with a big selection of artisan cheeses from the UK. Stands 77 & 78

Time to Tea will be pouring samples of their wonderful selection of teas. Stands 9
Legends Pies will be handing out samples of their hand-made mini pies for you to try! Stand 71
Hard Labor Brew will be handing out free samples of their hand crafted beer. Stand 96
Nielsen Wine Cellar will bring an interesting assortment of their fine wines. Stand 36
Sample Eazy Salsa's interesting authentic salsas. Stand 95
JUST FOR KIDS!
2 MUCHFUN specializes in Balloon Sculpting and Face Painting for children's birthday parties and events. Balloon figures are fun to watch the creation of and fun to play with. Face painting adds to the magic of imagination and make believe...a fun mask for any child!
Kids, join the 2 MUCHFUN team at the free Bouncy Castle!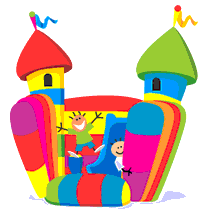 Attention American Citizens: Republicans and Democrats can register to vote at the Democrats Abroad stand. Stand 35
The Ecole Française de Bâle chorale group "Accroch'notes", will sing starting at 2pm next to the snack bar. They will sing songs in French, German and English.
​
Can you draw Swiss? Bergli Books is holding a drawing contest in celebration of the new book Swisstory: The Untold, Bloody, and Absolutely Real History of Switzerland. Everyone is a winner. Draw your favorite scene from Swiss history or just sketch a funny mountain and you get a chance to win one of three 30 CHF gift certificates from Basel's Bider and Tanner bookstore. Visit the Bergli stand to meet authors Laurie Theurer (Swisstory) and Jeanne Darling (The Monster Book of Switzerland) and join the fun. Stands 32 & 33